Bangkok – the famous Thai city from the movie franchise Hangover is hosting 'Affiliate World Asia conference from November 30th until December 1st. Is there anything better than spending the end of the year in a tropical climate and escaping the horrible Dutch winter? Not really.
Now, to say that this city with over 10 million people is "a lot" might be an understatement. You're about to travel a very long way to get there so to avoid feeling overwhelmed by this metropolis, Nova prepared a little guide for you. Once again, a dear friend who spent years in Bangkok agreed to reveal to us some of the best places to enjoy this city to the fullest. From party places to fancy restaurants and even touristic attractions. Oh, and did we mention that our source used to own a bar there? Yeah, it is probably fair to say that he knows what he's talking about. Take his advice and check out these places in Bangkok!
BEST AREAS TO STAY IN BANGKOK: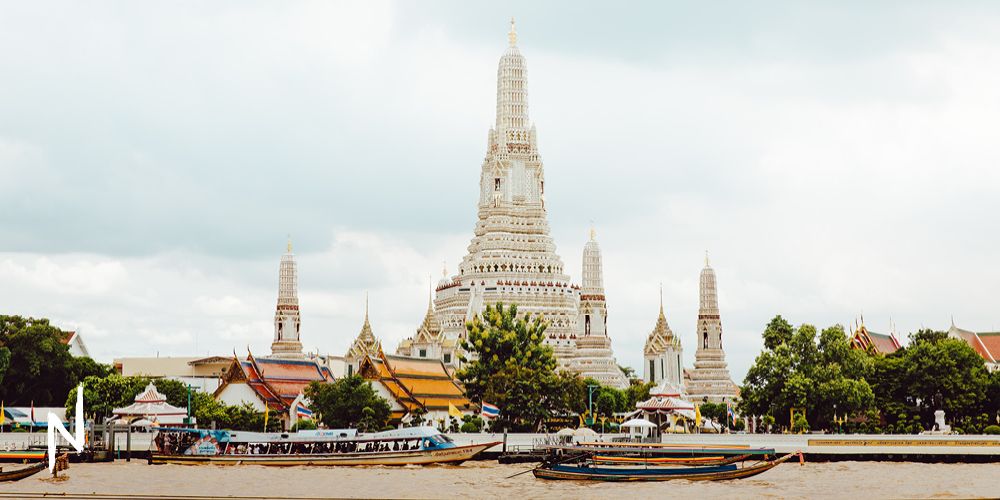 If you're planning on staying in Bangkok a bit longer after the conference, then here are some tips on the areas worth staying at.
THONG LO: Bright lights and hot nightlife with bars and restaurants are what attract people to spend their evenings at Thong Lo. It's an art district with a lot of options for partying or simply having some drinks. A lot of the bars and restaurants mentioned in this blog post are located in this area so it's safe to say that this is a place to be when the sun goes down.
CHIT LOM: Chit Lom is a BTS sky train station and a gateway to one of the most vibrant shopping districts in Bangkok. It's giving sophisticated urban vibes with a lot of high-end hotels. It's full of shopping malls, fine restaurants and fancy bars.
SATHORN: You won't find many tourists in this business area of Bangkok but you will still find a wide range of hotels to stay at. The are is considered a quiet and more sophisticated part of the city. It's a great starting point to explore Bangkok and offers a good selection of more sophisticated dining places and night-time entertainment.
BEST WAY OF TRANSPORT:
MOTORBIKE TAXI
BEST BARS IN BANGKOK:
SMALLS: A laid-back spot with a Parisian atmosphere, this bar is perfect for when you want to listen to some jazz music in a cozy setting, sipping on one of the many cocktails this place has to offer. It stretches across three floors and ends with a great rooftop terrace.
ASIA TODAY: If you want to experience some real Thai ingredients, then this is the place to go. Located in Bangkok's Chinatown, this cocktail bar is one of the hippest bars in the area. Keep in mind, it is quite small and crowded which creates a very laid-back atmosphere and allows you to mix in with the locals.
THE LOFT AT THE WALDORF: Glitz and glamour of New York in the middle of Bangkok. Have a glass of champagne or a hand-crafted cocktail with a view to die for.
BEST COFFEE PLACES IN BANGKOK:
KAIZEN Perfect place for a perfect start of the day. Enjoy your morning coffee or brunch, surrounded by a cool interior and lots of greenery. What makes this place special is its scientific way of brewing coffee. Order a Nitro Cold Brew and you'll see what we mean or just simply enjoy their homemade pastries.
THE COMMONS: Roast, BRIX Dessert Bar This is an interesting one. A concept of an open-spaced mall creates a feeling of community for the visitors. You'll find a lot of different coffee places in there, especially ROAST for a nice cup of coffee and BRIX Dessert bar for everyone with a sweet tooth.
SARNIES Another coffee place worth visiting is Sarnies. The place is actually a former 150-year-old boat repair shop, transformed into a café. Have a cup of their quality brewed coffee in the afternoon or visit Sarnies in the morning and have a nice heartful breakfast.
BEST BRUNCH IN TOWN
TOBY'S Toby's is branched throughout the city of Bangkok. Different branches are designed to have different vibes - from contemporary modern art to rustic and chic. They specialize in Australian breakfast and coffee.
LUKA SIRI HOUSE Luka Siri house is one of the branches of the Siri house that specializes in brewing fresh coffee and serving some comfort breakfast food. If you're interested in exploring fine dining in the afternoon, check out Quince Siri house and Jacqueline's for a nice cocktail tasting.
KAI NEW ZEALAND Not into Thai food? Kai New Zealand is a place with kiwi cuisine in the middle of Thai's capital. They offer a big selection of vegetarian options as well!
BEST DINNER PLACES IN TOWN
STREET FOOD IN CHINATOWN Chinatown is a great opportunity for a street-food tour. Walking through Chinatown is going to make you feel like you've escaped Thailand and visited a completely different country. The best time to visit is from Tuesday to Sunday after 6 pm.
GAGGANS This fancy place is run by a world-famous chef Gaggan Anand, who is famous for using molecular gastronomy techniques when preparing and presenting his food. The place has an extremely relaxing vibe with an elegant touch to it. If you want to go that extra mile, book the chef's table. It hosts 14 people, and you get to see chef Gaggan prepare the food right in front of you!
JAY FAI This one is an interesting one! It doesn't look like it, but Jay Fai is actually the first food street stall to receive a Michelin start. The place was even featured in the Netflix documentary series called 'Street food' and the people stand in line for hours just to taste the famous Michelin star-awarded dish – the crispy, golden-brown crab omelet.
WHAT IS WORTH SEEING
CHINATOWN As mentioned before, Chinatown is a little oasis in the middle of Bangkok. Not only you'll find some delicious food, but you can also visit temples or just walk through and enjoy the feeling of organized chaos.
WAT PHO THE BUDDHIST TEMPLE The Royal Temple of King Rama I of the Chakri Dynasty from the 16th century is considered one of Bangkok's biggest sights. The temples itself is impressive enough but the place also keeps the largest collection of Buddha images in Thailand. You'll also find the largest reclining Buddha in the city! Make sure you come dressed appropriately by wearing a long trousers/skirt as well as a long-sleeved shirt.
WAT PHRA KAEW This place attracts a lot of tourists from all over the world. It's the temple of the emerald buddha, which is considered one of the holiest images of Thailand. Furthermore, the temple is attached to the Grand Palace, which use to be a former royal residence.
BEST PARTY PLACES-CLUBS
SING SING Get ready to enter a fantasy world and a new dimension at Sing Sing. With its amazing interior, this party place is considered one of the best clubs in Bangkok. They play all sorts of music from EDM, house, nu-disco and hip-hop.
MUSTACHE Another famous party place in Thailand but make it underground. If you're more into electronic music than mainstream pop, this is a place for you!
TROPIC CITY The name says it all – Tropical place with an amazing selection of cocktails that made it on the list of Asia's best 50 bars, three years in a row. The neon lights and colorful interior makes it a fun experience, like an oasis in the middle of Bangkok.
MOST IMPORTANT WORDS TO LEARN
Hia - Hi
Chawp Pet Noi – I like it a little bit more spicy
Kawp Koon – Thank you
Chai / Mai Chai - Yes / No